Oliver C. Chu, OMD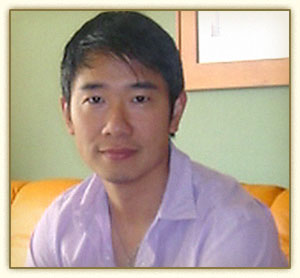 Born in Kowloon, Hong Kong, Oliver embarked on his journey into healing arts in 1982 by adopting Qigong (active self-care exercises) and Ditda-Shangke (Traumatology) as his two primary health care strategies. He received extensive apprenticeship training in the States, Hong Kong, and Beijing under several reputable physicians, esoteric healers of Eastern medicine, and venerable masters of traditional martial arts since 1976.
Oliver is a board-certified acupuncturist, former didactic professor of Traumatology and clinical professor of Tuina (Chinese Physiotherapy and Naprapathy) for the Academy of Chinese Culture & Health Science. He was also the Advanced Asian Bodywork instructor for San Francisco School of Massage and mentored post-graduate students at the American Institute of Acupuncture Orthopedics & Traumatology.
Oliver served as a clinical intern at various facilities including California Pacific Medical Center where he was the first to introduce and integrate Qigong-Tuina to patients in the departments of oncology, pediatrics, and transplant in 1998. He also provided acupuncture services at Seton Hospital (CCU), Tunnel Rehabilitation Center, and furthered his clinical training at Yueyang Hospital of Integrative Medicine in Shanghai, China.
On September 12th, 2005, Oliver was one of the original Common Ground Collective 'street-medics' and first acupuncturist to aid trauma survivors who suffered the aftermath of Hurricane Katrina in New Orleans. Oliver holds a clinical doctorate in Oriental medicine as well as a post-graduate concentration in TCM Orthopedics. He continued his studies in different parts of Asia including Shanghai TCM University.
Oliver has been part of a citywide preventative health and senior active-care program since 1999 where he offers Taiji Quan and Qigong classes. As a practicing Daoist and direct-lineage holder of the Pre-celestial Limitless Way, Oliver believes that in search for our truest path to live our lives, we will find the key to optimum health and healing.
---
Specialties
Emotional Wellbeing
Muscle Aches, Sprains and Strains
Back and Disc Problems
Orthopedics
Arthritis
Asthma
Breathing/Lungs
Depression/Anxiety
Diet and Nutrition
Digestion or Intestine
Eating Disorders
Headache/Migraine
Sleep/Insomnia
Spinal Problems
Stress
Weight Management

Treatment Preferences
(Style / Type)
Classical Acupuncture
Auricular Acupuncture
Five-Element Acupuncture
Traditional Chinese Acupuncture
Trigger Point Acupuncture
Manual Medicine
Traumatology (Ditda-Shangke)
Treatment Techniques
Electroacupuncture
Cupping
Gua Sha
Radiant Heat
Moxibustion
Qigong
Tuina
Meditation
Taiji Quan
Herbal & Nutritional Therapy